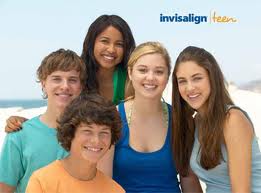 Does Invisalign Teen work as well as traditional braces?
In many cases Invisalign Teen can treat a case to the standards which we achieve with traditional braces when worn per your doctor's recommendation.
What are some of the limitations to Invisalign Teen?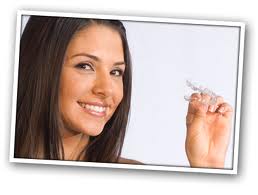 Patients must be completely compliant and wear their aligners 22 hours per day.
Invisalign can not treat some of the more difficult cases.
How does Invisalign Teen retention work?
Retention with Invisalign is similar to conventional treatment. Once treatment is completed the patient is expected to wear a retainer for twelve months full time and then continue retention at nighttime.
How will I know how often my child is wearing their aligners?
The compliance indicators located on the upper aligner can estimate the approximate amount of time your teen spends wearing the product. The indicators are designed to fade from blue to clear as a gauge of approximate wear time, so you can ensure your child's compliance easily.
What happens if my child does not wear the aligners for the recommended amount of time?
Invisalign Teen is most effective when worn per your doctor's recommendation. Overall, we find the aligners are most effective if worn 22 hours per day – and removed only for eating, brushing and flossing. However, it is not detrimental to the alignment process if your child goes without wearing aligners for short periods of time once in a while.
What happens if my child loses one or both of their aligners?
In the event that an aligner is lost or broken, you should inform their doctor right away. The doctor will probably tell them to start wearing their last set or next set of aligners immediately. He or she will then order your teen a new set of aligners to replace the ones that were lost. In most cases the replacement aligners should arrive in a few days.

If my son/daughter is 18 years old, do they use Invisalign or Invisalign Teen?
Ask your orthodontist when deciding between the two options. Although your child may be a suitable candidate for the Invisalign full product, they may benefit from some of the new features that Invisalign Teen system offers.
What is the difference between the adult Invisalign product and the Invisalign Teen product?
Although many of the benefits are the same, Invisalign Teen is differentiated by three new features that were designed specifically for a patient with the needs or the type of dentition commonly found in the teen age-group.
How much time will my child spend at the orthodontist's office?

Invisalign Teen requires very little manipulation or maintenance by the doctor in order to be effective, so your child will spend limited time visiting their doctor. After the initial appointment, follow-up appointments are usually scheduled every six weeks to check on progress and to provide your child with the next three sets of aligners.
Is it easy to keep your teeth clean with Invisalign Teen?
Yes! Invisalign Teen allows your child to remove the aligners for eating or brushing their teeth, so it is much easier to maintain proper oral hygiene with our product than it is with traditional metal braces. Best of all, food will be get caught on any fixed brackets and wires, since Invisalign is removable and wire-free!
What are some other advantages of Invisalign Teen over traditional braces?
In addition to keeping a clean mouth, an active lifestyle is made simpler when wearing Invisalign as opposed to the fixed wire and brackets. Since the device is removable it's easy for your child to play sports or an instrument as any teenager would – even one who is not in orthodontics treatment.
Dr. Bisbas is proud to be an Invisalign Premier Provider, awarded only to the top 5 percent of doctors in North America. To achieve this status, Dr. Bisbas demonstrated an exceptional level of Invisalign® experience.
If you decide that Invisalign Teen is the right choice for your teen, we're ready to help you take the next step toward giving your teen that perfect smile.
Take the Invisalign Teen Self Assessment with your teen today.
Learn more about why Invisalign Teen is the clear choice for a happy, healthy smile. We welcome the opportunity to evaluate your orthodontic needs.
Schedule your complimentary consultation with Dr. Bisbas online or call our office at: 858.755.5363